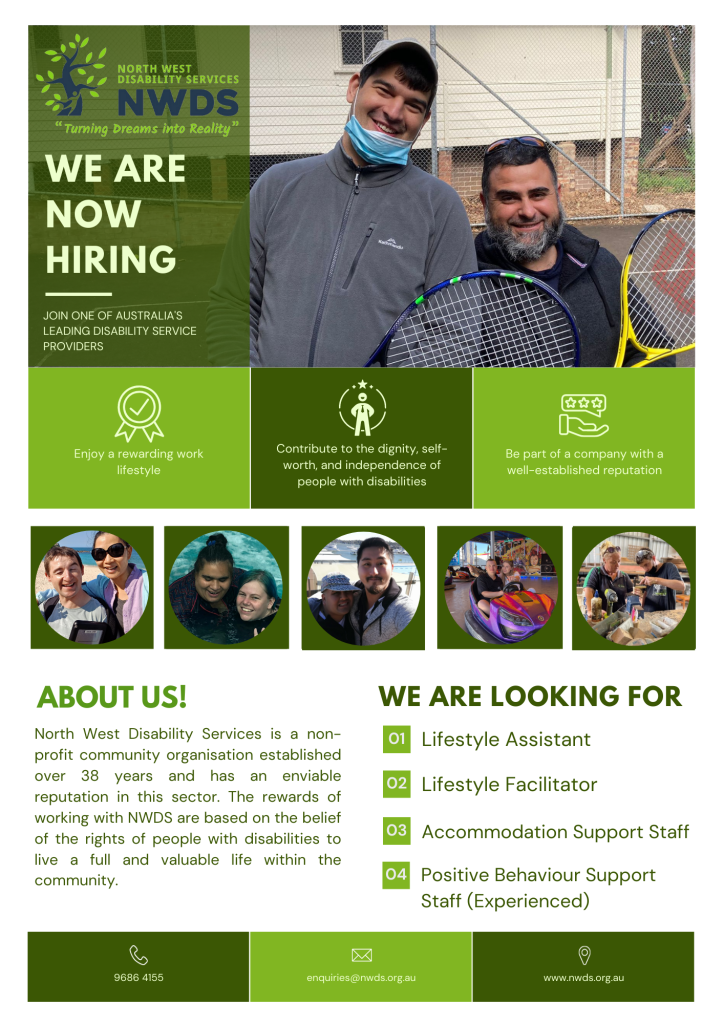 Lifestyle Assistants
Contribute to the dignity, self-worth, and independence of people with disabilities
Enjoy a rewarding work lifestyle
Be part of a company with a well-established reputation
Join the team who spend their days Turning Dreams Into Reality
North West Disability Services meets the requirements of the National Disability Insurance Scheme in was that is the envy of every sector. NWDS fully implements and advocates for the application of the Disability Inclusion Act 2014 and the Disability Service Standards, which complies with all local, State, and Commonwealth Government requirements so that you can work with NWDs confident that your contribution is both valuable and appropriately supported.
If you are an experienced Disability Worker, we look forward to the opportunity to interview you for a range of roles currently available.
If you are looking at joining the sector or with limited experience, you may also apply to join our recruitment information sessions to gain more understanding of the role and open yourself up to a position or casual role.
Recruitment Session Dates:
June 6, Tuesday
June 15, Thursday
June 20, Tuesday
We are delighted to have candidates bring their individual skills to the table and all are encouraged to apply. At the moment we are looking for people with experience in the following areas so be sure to note that in your application if you do:
Behaviour management experience including 1:1 with challenging clients
Experience in group homes, and/or the willingness and ability to be trained
Have the willingness to work sleepover shifts as requested by clients
Have the ability and willingness to be assessed and participate in swimming support for clients
The ideal candidate:
Promotes the dignity, independence, and self-worth of each participant
Assists each participant to understand their rights and responsibilities to become valued and respected members of the community
Provides assistance where necessary and to teach the skills necessary to reach individual goals and maximum potential
Works in a positive manner as part of the overall service team of NWDS
APPLY HERE: EMPLOYMENT OPPORTUNITIES
Essential criteria: 
Certificate 3 in Individualised Support, or achievement within 12 months of employment
LR manual license, or achievement within 2 months of employment
First Aid Certificate, or achievement within 2 months of employment
Ability to swim and support service users in and around water-based activities
Commitment to ongoing training
Desirable criteria:
Experience in working with people with disabilities
Knowledge of Disability Inclusion Act 2014 and Disability Service Standards
Current Working with Children Check
Own vehicle with comprehensive insurance
Ability to communicate well verbally and in writing
Good teamwork and interpersonal skills
Pay SCHADS Grade 1, starting point depending upon qualifications and quick achievement of core requirements, with movement quickly to equivalent of Grade 2 PP 1. achievable within the first few weeks of your application.
Progression to Grade 2 is dependent upon achievement of Certificate 3,  Certificate 4, or Diploma in Individualised Support.
Wide range of Salary Sacrifice and incentives also available for the approved candidate.
NWDS is a Charity, PBI and non-profit community organisation which believes in the rights of people with a disability to live a full and valuable life within the community. For more information on NWDS please visit the website.